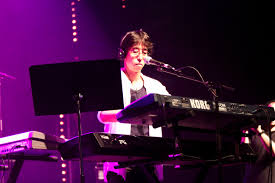 Noriyuki Iwadare (born April 28, 1964 in Matsumoto) is a Japanese composer, best known for his video game music, but also working on television, entertainment, radio and event projects.
Passionate about music since childhood, he began composing in high school and then in university, trying his hand at computer-assisted music. He entered the video game industry through a friend, and won the Best Game Music Award in 1991 for the music of the game Lunar: The Silver Star on Mega Drive. In 1997 and 2000, he again won the Best Game Music Award for music for the game Grandia on Saturn and the game Grandia II on Dreamcast.
He also regularly composes for the Tokyo Disney Resort amusement park, for dance shows, television, radio and is also the author of solo albums and arrangements for video game orchestras such as Phoenix Wright: Ace Attorney.
In 2005, Noriyuki Iwadare participated in the Square-Enix Party 20051 as part of the launch of the video game Grandia III, and on this occasion presented with his group a concert on the theme "History of GRANDIA LIVE", taking the music of the saga on stage.
Video game music: