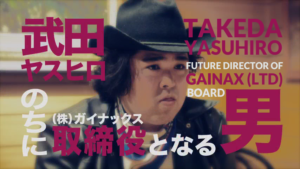 Yasuhiro Takeda, born in Tadaoka in Osaka prefecture, is Founder of Studio GAINAX, current president of Gainax West and Vice president of Fukushima Gainax.
He returned to Kindai University at the Atomic Energy Research Institute in 1976 and became passionate about science fiction. He created the Science Fiction Club of the Kansai Student Confederation. This allowed him to meet many people and organize his first convention, the Seto-Con in 1978, where he met Toshio Okada.
In 1981, he reiterated by organizing the Daicon 3 convention in Osaka, the third edition of the Japan National SF Convention in this city. On this occasion, he asked a group of hosts to make a short film broadcast at the opening of the event: Daicon 3. The convention was a success and two months later, in October 1981, Takeda abandoned his studies.
In 1982, Takeda and Okada founded the company General Products, which specializes in science fiction products and whose sales are used to finance the very recent studio Daicon Film. This allows them in particular to finance and organize the Daicon 4 convention in 1983. It is also an opportunity to make a new short film for the opening: Daicon 4. General Products also participated in the implementation of the first Wonder Festival in 1985.
Yasuhiro Takeda also plays the main role in the parody series Kaiketsu Noutenki as well as the captain in the short film Kaettekita Ultraman Mattoarō 1-gō hasshin meirei.
With the members of Daicon Film, he founded the Gainax studio in 1984. He is notably the president of the 27th Japan National SF Convention, the MiG-CON in Gunma. He left for Tokyo to join the Gainax studio in 1987 and moved General Products in the process. The latter will finally merge with the animation studio in 1990, at that time, the company produced a magazine called Cyber ​​Comic.
In 2001, Yasuhiro Takeda was again president of the 40th Japan National SF Convention, the SF2001. In 2002, he published his autobiography, The Notenki Memoirs: Studio Gainax and the Men Who Created Evangelion, which focuses mainly on his university years, his involvement in science fiction conventions and the career that gave him.
Filmography
Producer:
1981: Daicon 3
1982-1988: Kaiketsu Noutenki
1983: Daicon 4
1988: Gunbuster – Production manager
2004: Diebuster
2007: Tengen Toppa Gurren Lagann
2008: Shikabane Hime: Aka
2009: Mahoromatic: I'm Home!
2010: Hanamaru Kindergarten
2010: Panty and Stocking with Garterbelt – Executive producer
2011: The Mystic Archives of Dantalian
Planning:
2008: Shikabane Hime: Aka
2009: Shikabane Hime: Kuro
2012: Medaka Box Abnormal
Actor:
1982-1988: Kaiketsu Noutenki – Ken Hayakawa / Notenki
1985: Kaettekita Ultraman Mattoarō 1-gō hasshin meirei – Captain
Other:
2009: Summer Wars – Special thanks
2013: Stella Women's Academy, High School Division Class C³ – Animation Supervisor