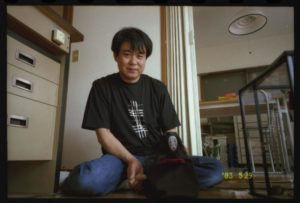 Born on November 27, 1961, he is the president of the animation studio "Trash Studio Inc". From childhood, he was shocked by the film "Pandako Panda" which gave him the desire to do animation. He was strongly influenced by the work of Isao Takahata (Michizato, Akage Ann, Heidi…).
After graduating from Nihon University's Faculty of Production Engineering, he worked as a drawing assistant for Yuichi Hasegawa. He specializes in the production of video advertising and works on numerous advertisements and promotional videos of his video game products.
In 2004, he founded Trash Studio, a company planning and producing animation and video games. Plan and produce promotional videos such as commercials and theatre films that use the quality of the animation. The production is in collaboration with the famous animator "Mr. Yoshiharu Sato", aiming to create warm and high quality works.
It was after the association of the "Garacuta Masterpiece Theater Lacquer Kingdom" games of the taito company and the film "Gibreeze episode 2" of Studio Ghibli, that he had the opportunity to work on various planning and production operations of the company Ghibli.
STUDIO GHIBLI:
From Kokurikozaka (production work)[2011]
Kazetani (Production)[2013]
The story of Princess Kaguya (production work)[2013]
Marnie of memories (production work)[2014]
EVENT:
Isao Takahata Exhibition Studio Ghibli[2019-]
Toshio Suzuki and Studio Ghibli Exhibition Studio Ghibli[2019-]
Magical Exhibition of Words Studio Ghibli[2017-2018]
Ghibli Exhibition Studio Ghibli[2015-]
Studio Ghibli Layout Exhibition[2008-2019]
Kifumi Kondo Exhibition Studio Ghibli[2014-]
THE World Masterpiece Theater Exhibition Japan Animation[2015-]
Yoshiharu Sato Original Painting Exhibition Animate / Bookstore[2017-]
And more….