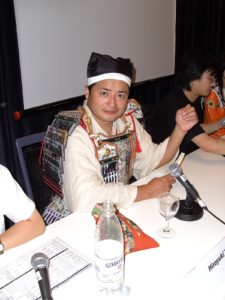 Hiroyuki Yamaga (山 賀 博 之) born in 1962 in Niigata, is a director, screenwriter, producer and one of the founding members of Gainax. In 1980, he graduated from Osaka College of Art with Hideaki Anno.
With, Anno and Takami Akai, they founded the studio Daicon Film in 1981 for the production of the short film Daicon 3. The film is to serve as the opening film for the 20th taikai convention of Nihon SF (日本 SF 大会) which this year in Osaka (Daicon 3). On this occasion, he is the director. After directing the short film Daicon 4 in 1983, he founded the studio Gainax to direct the feature film Les Ailes d´Honnéamise.
Yamaga, who feels the limits of activity in Osaka, suggests to Toshio Okada to leave for Tokyo. The latter accepts. Takami Akai and Hideaki Anno decide to become more professional by participating in the animation of Super Dimension Fortress Macross and decide to accompany them. Yamaga also joins them on this series.
Since 1992, he has been trying to carry out the follow-up project of the Wings of Honor called Uru in Blue. Since 2005, he has also been working on the adaptation project for the animated feature film of the manga Neppu Kairiku Bushi Road.
Filmography
Director
Short films
1981: Daicon 3
1983: Daicon 4
1989: DATA N ° 6 DEFENSE CLOSURE non PV
TV shows
1981: Ultraman DX
Animation / OVA TV Series
1982: The Super Dimension Fortress Macross
2001: Mahoromatic
2002: Abenobashi Magical Shopping Street
Animated feature films
1987: Wings of Hononnise
Scenario
1989: Komatsu Sakyo Anime Gekijou
Animation / OVA TV Series
1982: The Super Dimension Fortress Macross
1989: Mobile Suit Gundam 0080: War in the pocket
1988: Gunbuster
1990: Mahjong Hishouden: Naki no Ryuu
1991: Otaku no video
2001: Mahoromatic
2002: Abenobashi Magical Shopping Street
Animated feature films
1987: Wings of Hononnise
Producer
Animation / OVA TV Series
1995: Neon Genesis Evangelion
2008: Corpse Princess
Animated feature films
1997: Evangelion: death and rebirth
1997: The end of Evangelion
Other
1980: Ultraman – Actor (extra)
1981: Ultraman DX – Actor
1983: Return of Ultraman – Photography
1985: Yamatanoorochi no gyakushū – Actor (appearance)
1998: Love & Pop – Actor (appearance)
2002: Little Princess Yucie – Composition
2003: Wonderful Days – Japanese adaptation
2004: Cutie Honey – Casting, planning
2004: This ugly and beautiful world – Composition
2004: Diebuster – Planning
2005: He is my master – Planning
2006: Top wo Nerae! & Top wo Nerae 2! Gattai Movie !! – Planning
2007: Tengen Toppa Gurren Lagann – Planning
2011: The mystical archives of Dantalian – Art director