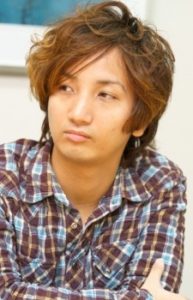 Kumagai Jun (熊 谷 純) born October 2, 1983, is a Japanese anime screenwriter, best known for his work on the second season of the anime Psycho-Pass and on the Persona series, in which he wrote the script for the third film and anime series. He started his career in 2007. Winner of the nineteenth Fuji TV Young Scenario Prize in 2006 with Kyji wa Shibuya of 6 ji. He participated in the writing of certain elements of the Tales of Phantasia games: Narikiri Dungeon X and Tales of Graces as well as in the script of the game Scared Rider Xechs. We also owe him the play Ore wa Honnōji ni ari ?! and a few books.
Primary works :
Anime:
PERSONA 4 (2011)
Video games :
Tales of Graces (PS3)
Scared Rider Xechs (PS2)
Tales of Phantasia: Narikiri Dungeon X (PSP)
Drama CD:
Scared rider xechs
Novels:
Kono umi no mukō from
C-R-O-S-S Seitōbatsgun Rei & Saki [in collaboration with Tsuji Yuki]
C-R-O-S-S 2 Rei & Saki Bōryaku no hainherutsu [in collaboration with Tsuji Yuki]
Drama:
6 jy kyō wa shibuya (2008, fuji tv)
Theater :
Ore wa Honnōji ni ari ?!