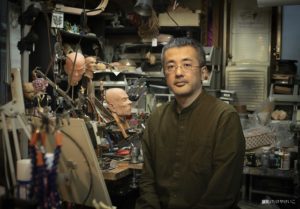 Takayuki Takeya, born December 10, 1963 in Hokkaido, is a sculptor renowned for his remarkable power of modeling and his power of design drawn from his own interpretation. He specializes in creatures with strange shapes and mechanics of organic design.
After working for a model art company, he started freelancing around 1985. For five years from 1994, he serialized his original work "Angle of the Fisherman" in "Model & Hobby" Magazine "SMH" . In 1999, Hobby Japan Co., Ltd. published the first collection of works "Takayuki Takeya's Work Collection Fisherman's Angle", and in 2000, at Shibuya Parco 3, "Takayuki Takeya's Work Exhibition -" Kamen Rider "Up to the angle" was organized which allowed him to win in popularity.
Currently, he is active in various fields such as cinema, toys and characters. There are many prototype figures such as "Final Fantasy II", "Alien", "Predator", "Kamen Rider", "Devilman" and so on. In "Hyakki Yoko Youkai Collection" and "Yokai Netsuke" by Kaiyodo, he worked as a prototype commander and revived a number of Japanese youkai. The series "Revoltech Takeya" by Kaiyodo also presents an unprecedented modeling work which makes a famous statue of Buddha fully mobile. He also participates in artistic creations for video works such as "GARO".
He is one of the most famous creators of models, figurines. He created the original design for SHIN-GODZILLA and also "Sic" from the BANDI series. NIKE President Mark Parker himself visited his home for work.