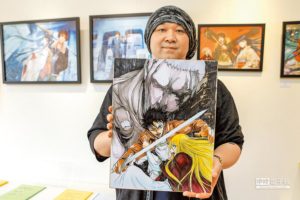 Satoshi Shiki (士 貴 智 志), born November 20, 1970, is a Japanese mangaka who began his professional career in 1991 with the publisher Kadokawa Shoten by publishing his one shot "Crimes and Punishments". In 1993, he began his first series, Riot. Despite some success in Japan, the series is discontinued after only two volumes. His collaboration with this publisher then ended, which also led to the end of his work 69.
In 1997, he published his manga Kamikaze in the publisher Kōdansha's Afternoon magazine, which ended in 2003 after seven volumes. Between 2000 and 2002, he designed Min Min Mint for Kōdansha.
In early 2004, he designed the animated series Daphne in the Brilliant Blue, and wrote the manga adaptation in the monthly Young King Ours by the editor Shonen Gahosha.
At the end of 2006, the author returned to the manga with XBlade, co-wrote with Tatsuhiko Ida, pre-published in the monthly Monthly Shōnen Sirius. It ends in October 2013.
Since August 2013, he has been making the manga adaptation of the light novel series Shingeki no Kyojin: Before the fall, from the universe of the manga L'Attaque des Titans. It is published in the magazine Monthly Shōnen Sirius.